Changing Eye Colour 2 Tutorial
Made by: Nick
I know i've already made a tutorial about how to change eye colours but one great thing about Photoshop is that there is usually a lot of different ways to carry out the same job (e.g. Colouring eyes). Some people find some techniques easier/better than others, so I thought it might be useful to go over another different technique of how to change eye colour in a photo (might just be because I like playing around with eyes...but it'll hopfully be useful).

Here I have a blue eye, and i want to change it to be green.
Start by changing to quick mask mode
Then select the brush tool

Select a smooth brush that fits the eye size
and then paint the pupil, i've made it a red colour that shows the painted area but really it doesn't matter what colour, just something that you will be able to recognise as the painted section.

Now to erase the extra painted areas (if needed) select the erase tool
Make sure that the Opacity is 100%
And select a smooth erase brush
then erase the extras
Now go back to the normal mode

As u can see that the pupil area has been selected (or should have been, if not then select it), right-click on the working scene and click "Select Inverse" from the menu
Now make a new layer from Layer> New> Layer
Name it whatever you want and click OK
Now paint the selected area with the colour you want to change the eye to (in this case, green)

Then change the mode of the color layer to "color"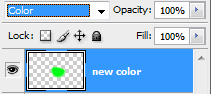 You may change the opacity of the layer if you want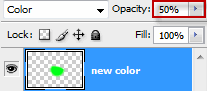 Final Result